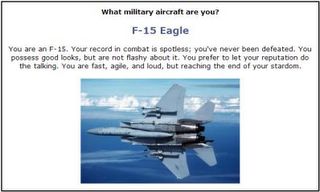 This was
neat,
in an internet sort of way. I found this quiz at
Sondra K
's. If you were a military aircraft, Which one would
you be?
I'm going to Cold Lake soon to check out the heavy iron at
Maple Flag
.
The next picture (below) is the winner of the 2004 freedom tour caption contest, and was taken at last year's Maple Flag. Congrats to
Leo Carpathian
at the
Free Republic.